8º International Clinic for futsal coaches "Città di Milano"
Presentation
Futsalcoach-kickoff le presenta con gran placer la 8ª edición de un evento, que se convirtió en una tradición anual de fin de año para todos los expertos en futsal.
Una vez más, San Donato milanese y Milan serán los anfitriones de este extremadamente importante evento de fútbol sala los días 28, 29 y 30 de junio, durante el cual damos la bienvenida cada año a entrenadores de más de 20 países diferentes (22 países estuvieron representados durante la última edición), quienes están dispuestos a sumergirse en futsal tactis gracias al profundo conocimiento de los entrenadores de futsal de renombre internacional y de renombre internacional.
Ubicación perfecta (inicio de Sports Center en San Donato Milanese), organización impecable (Futsalcoach-Kick off), en una ciudad fascinante como Milán y una lista de oradores sin iguales son los ingredientes que hacen que este evento sea exitoso y único.
Habrá seis oradores durante la edición de este año, quienes desarrollarán una evolución táctica y técnica diferente a través de 9 conferencias teóricas y 9 prácticas.
Estamos orgullosos y felices de tener con nosotros:
- José Venancio López Hierro (director técnico de fútbol sala español)
Tácticas de grupo ofensivas entre dos o tres jugadores, aplicación del sistema 4-0 y 3-1.
Conceptos y movimientos durante la situación especial 4x3.
- Federico Vidal (entrenador del equipo de fútbol sala masculino español)
Fundamentos en el individuo y el intercambio de diferencias.
Desarrollo teórico y práctico, así como soluciones formativas.
- Andres Sanz (head coach of Futsi Atletico Navalcarnero)
Positional attack against closed defenses in the 2-2 system. Theoretical principles and training solutions.
- Jose Lucas Mena "Pato" ( head coach of Ribera Navarra FS)
Getting out of pressure. Variables and principles depending on the game situation and on the type of marking.
- Imanol Arrequi ( head coach of C.A. Osasuna Magna).
The 4-0 system. Principles and variables of attacking different types of difensive formations.
- Luis Fonseca ( former coach of the Kuwait national team)
Training the 1v1 situation. From its individual fundamentals to its application during collective movements.
Location and dates:
Milan 28th, 29th, 30th of June

Club Polideportivo Kick Off

Via XXV Aprile, 16

20097 San Donato Milanese - Milano

Tfno. +39 3929213024


Ver mapa más grande
Prices: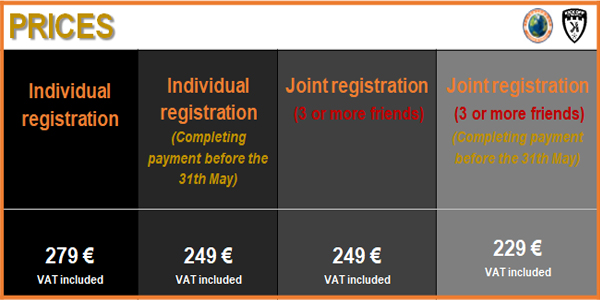 If you choose a "joint registration" with several friends, you must make one payment but on the form you should fill in everything and in the comments put that it is a joint registration and put the name of person who made the payment.
All the registration options include:
Attendance to the presentations.
Kit of the clínic.
Commemorative Joma T-Shirt
All the teaching contents of the presentations.
Commerative lunch with the presentations (Saturday 20). Special menu at the Kick Off restaurant.
Diploma