7º International Clinic for futsal coaches "Città di Milano"
Presentation
For the seventh consecutive year, Futsalcoach and Kick off are fully developing a new edition of the International "Futsalcoach-Kick off City of Milan". Thanks to the reference of our futsal coaches, the clinic in milan is considered a pioneer futsal training experience and an important meting point for futsal coaches at international level. For this reason, the number of participants tend to increase in each edition, reaching 120 people from 23 different nations.
IMPORTANT CHANGES
What we are going to present in the 2018 edition is an important and interesting approach, taking always into consideration everything you have passed on to us during the last editons.
. we can announce to you that in this year's clinic there will be more practical lessons than theoretical ones and the new lessons will take place on the court.
. in this edition we included 3 practical lessons for the goalkeeper training on Saturday afternoon, giving you the chance to register either for the goalkeeper training session or for the entire clinic.
Hopefully, goalkeeper coaches will appreciate and enjoy this new development.
. We will propose, for the first time, a lesson exclusively on physical preparation, that will be completed with two of the tactical lessons of the programme. Therefore, during the technical-tactical lessons, you can see how the coaches of Intermovistar work in order to put together their game plan and systems. During the physical-tactical lesson , you will see how physical resistance can be trained t hrough the various play systems and schemes. We believe all this is a luxury for this much improved edition.
We consider also other important ingredients that make the clinic of milan succesful and unique of its kind. First of all, the perfect location in milan ( Kick off sports centre in san donato milanese), secondly an excellent organsation and lastly a team of highly qualified speakers. We believe that the main component is the large number of futsal coaches who attend the annual incomparable event in milan in order to confront each other, get trained and learn.
During this edition, six highly skilled and insightful speakers are involved. Besides Jose Venancio Lopez Hierro ( coach of the spanish futsal national team) and Andres Sanz ( coach of Futsi Atletico Navalcarnero), two more top active spanish coaches are ready to join us this year ; Jesus Velasco ( head coach of inter movistar) and Imanol Arregui ( coach of CA Osasuna Magna).
We can also count on physical trainers and highly respected goalkeeper coaches; Enrique Ibanez "Chicho" ( inter movistar) and Adrian Paz ( spanish national futsal team).
JOSE VENANCIO LOPEZ
.Organisation and development of the switching defense (THEORY)
. Tactical difensive principles. (PRACTICE)
. Exercise the exchange defence (PRACTICE).
. GOALKEEPERS. Training the 1v1 situation.(PRACTICE).
JESUS VELASCO
.Methological lines in the 4-0 system (THEORY).
.Methological lines in the 4-0 system. Practical evolution (PRACTICE).
IMANOL ARREGUI
.Counterattack. Structure and implementation of the rules. (THEORY).
.Counterattack.Practical proposals in different situations of numerical superiority (PRACTICE).
ANDRES SANZ
.Integrated training. Real game situations during training sessions. (THEORY).
.Real game situation as a training session. Practical proposals. (PRACTICE).
ENRIQUE IBANEZ CHICHO
.Methodology in the development of the resistance according to the game system. (PRACTICE).
.GOALKEEPERS. Perspective and tecnical exercises during the goalkeeper training.(PRACTICE).
ADRIAN PAZ
.GOALKEEPERS. Physical preparation of the goalkeeper starting from specific technical situations.(PRACTICE).
A great programme not only for the arguments we are going to deal with but as well for the speakers, coaches of extensive experience in competitions and in the field of Coach-training around the world . A fundamental aspect so that contents are presented in instructive form and accessible to all potential trainers of all levels.
This clinic has a lot to offer; the wonderful atmosphere, the great and many possibilities milan has to offer , the efficient and at the same time informal open space of the sports centre kick off, where speakers , organisers and participants can interact with each other and exchange views during break time.
We are sure that this year edition will be as successful and efficient as the other ones., nevertheless we aim to improve every possible aspect of this new clinic edition.
We are looking forward to seeing you in June.
Location and dates:
Milan 23th, 24th, 25th of June

Club Polideportivo Kick Off

Via XXV Aprile, 16

20097 San Donato Milanese - Milano

Tfno. +39 3929213024


Ver mapa más grande
Prices: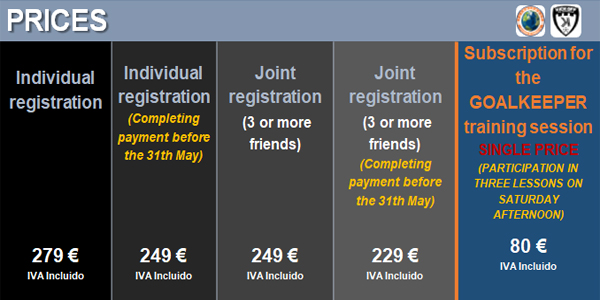 If you choose a "joint registration" with several friends, you must make one payment but on the form you should fill in everything and in the comments put that it is a joint registration and put the name of person who made the payment.
All the registration options include:
Attendance to the presentations.
Kit of the clínic.
Commemorative Joma T-Shirt
All the teaching contents of the presentations.
Commerative lunch with the presentations (Saturday 20). Special menu at the Kick Off restaurant.
Diploma